Data Interpretation & Modelling
Not just the tools but also the knowledge to use them wisely.
At Crone, we deliver top-quality survey design, data collection, processing and interpretation with an unmatched level of support from the team that builds our equipment. Among others, our interpretive techniques include numerical modelling and the step response transformation.
For numerical modelling, we offer industry standard packages partnered with the most up-to-date software. Our experienced geophysicists incorporate a range of geological information into the modelling and also know the limits of applying numerical models to the real earth. They are adept and can be trusted to provide expert advice.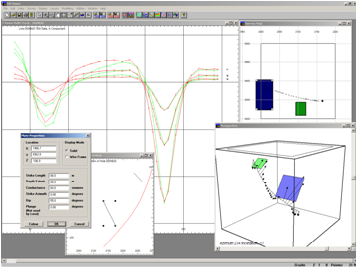 Pulse EM, like other TDEM systems, is a wide bandwidth EM system that can detect and discriminate conductors over a wide range of conductivities. At Crone, we have developed and proven a step response transformation of Pulse EM data to allow for the detection and discrimination of extremely high conductance targets such as nickel ore bodies. Using step response, we can discriminate, model and interpret conductors that are missed by other TDEM systems or that are lumped together for having unresolved high conductance. This method of data interpretation has proven highly beneficial to many of our clients.